An old advertisement claimed that it takes about a year to make asingle Rolex watch.
It might sound hard to believebut it's still true today.
Rolex produces about a million watches a year but none of thosewatches are produced by following shortcuts during themanufacturing phase.
With such a piece of craftsmanship in your possession, it wouldplain stupid not to keep it safe by storing it appropriately.
HINT: Placing it on the nearest flat surface before you hit thepillow doesn't count as appropriate.
The main enemies of watches are humidity and dust. It is ofparamount importance to keep any watch away from humidenvironments.
Try to keep your Rolex in dry, temperature-controlledenvironments if you are storing it for a long time. Althoughunusual aging can increase the value of watches, they should bestored away from light.
Light can fade black dials on vintage watches to a tropical orchocolate brown color depending on the model, brand andaesthetics of the watch.
Follow this range of solutions if you want your Rolex to be stored properly.
Watch Winders Are Best For Daily Wear
These are the most popular way of keeping your Automatic Rolexwatch safe and wound ready for use.
Watch Winders come with their own compartments which enableall parts of the watch to be covered with the box top. Many Rolexcollectors also store their watches this way to avoid exposingthem to elements which can tarnish their appearance but werecommend other options if you don't wear your Rolex daily.
There is no limit to the amount one can spend on watch winders,as in most things in life, the more you spend, the more you get.
Find below our list of best watch winders that runs on gamut of prices.
Wolf Cub Single Winder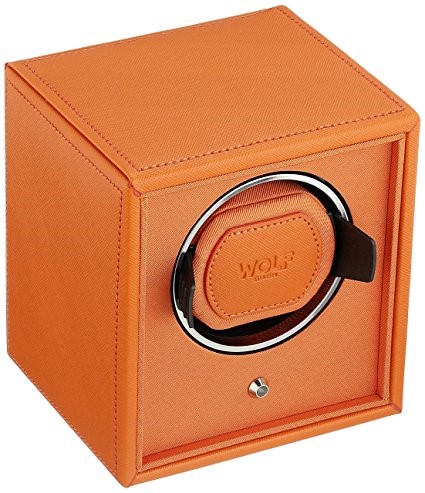 This automatic watch winder comes in an array of vivid colors and can handle bigger watches that are up to 52mm in diameter and can lock the cuff into the rotator drum so it doesn't come loose.
The pre-programmed settings of the winder can never overwind your watch and with the beautifully designed watch, winder box comes with a faceplate that is dramatically composed of cotton for a textured contrast on your watch.
Diplomat Travel Winder
Because you are always in transit (on the road or in the air) doesn't mean that you can't carry your watches around. This brilliant single version of winders can keep your watch protected for travel and winds in three models for almost 1, 500 daily turns. In addition, the croc-embossed case is also quite pretty.
A Safety Deposit Box At Home
For watch collectors who have invested a significant sum into their collection, it is important to upscale your security.  A home safety deposit box can be a great option.
You can buy a simple metal safe from the DIY store that can be hidden somewhere in your house.
This will enable you to keep your Rolex safe using an electronic lock or a mechanical locking mechanism.
Bear in mind that smaller boxes can easily be picked by thieves but many of them come with bolts which are used to fasten them to the wall. Doing this will delay the thief a bit since it has been proven that a thief needs approximately about three minutes to do his thing.
To keep your watch safer, you can also purchase a safe with your specifications to contain a number of watch winders. This can also be purchased with the same lacquer finish as your car.
Some companies such as the Stockinger Bespoke Safes (a German company) produce tailor-made safes for cars. They do this by combining known German engineering with engineering ideas from other parts of the world.
These safes are worth paying for, for insurance as well as personal security reasons. A qualified locksmith can be employed to install the safe, bolting it to a solid floor or wall. If you don't want to bolt down the safe, you can as well store treasures in a shoebox.
Based on research findings, the shock drawer is regarded as the top hiding place i.e., the first place a burglar will look. Other places of interest include; the top of the wardrobe, under the bed, inside bedside tables and the back of kitchen drawers.
To break a professionally installed safe, it can take hours or even days to crack.
The Safety Deposit Box Away From Home
Many banks have chosen to stop providing the services of a secure vault with safe deposit boxes because it is expensive to maintain. The few that still do, offer it only to their favored customers.
None of the major high street banks in the UK offer safe deposit boxes to its new customers. Only existing clients that are wealthy with high net worth are able to retain their old safe-deposit box. Large banks no longer create new rentals.
A small London-only safe deposit service offers a small number of security companies this service with a rental charge of about £500 per annum.
It should, however, be noted that a safe-deposit box does not have to be inside a bank or any other financial organization. Some individuals prefer to have their safe-deposit box in a Sentry safe. However, such safe needs to be heavy and safe enough to prevent it from easily being removed or burgled. Some businesses (such as jewelry retailers located in isolated areas) also have their safe on the premises.